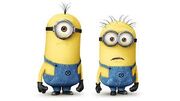 Bill is one of Gru's Minions. He is a tall one-eyed Minion with sprout-cut hair that only appeared in Despicable Me 2 promo pictures.
Gallery
Trivia
He is the only tall one-eyed Minion that made appearances.
He only appeared in promo pictures of the second film but not in either of the films.
His name, Bill, is also conjectural.