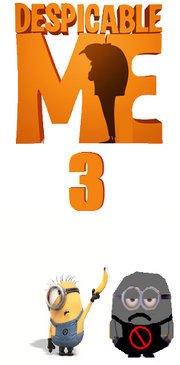 Despicable Me 3 is a upcoming animated film and will be the third film of the Despicable Me franchise. It will be released on June 30, 2017.
Plot
An evil scientist starts making robotic minion clones and decids to use them in war against Gru's minions.  Meanwhile, Lucy is pregnant with Gru & Lucy's first child while Agnes, Edith and Margo are sent to a stay-away camp named "Camp Iwackapoo", where their camp consuler is no other than Dr. Nefario!
Cast
Steve Carell as Felonious Gru, former villain turned father and Lucy's husband.
Kristen Wiig as Lucy Wilde, an Anti-Villain League agent and Gru's wife. Wiig also played Miss Hattie in the first film.
Dwayne Johnson as Doctor Mocker, an young, energetic inventer who wants people to realize how big his work is.
Evangeline Lilly as Mary Mocker, Doctor Mocker's wife and Missy's mom.
Jennifer Lawrence as Missy Mocker, Doctor Mocker's teenage daughter who is the most popular girl at Camp Iwackapoo.
Vince Vaughn as Joey, Lucy's brother.
Ian McKellen as Pat, Lucy's lay-back father, who once had a craving for villianese.
Jane Lynch as Donna, Lucy's mother who was once a secret agent.
Paul Rudd as Mickey, Gru's nerdy cousin.
Miranda Cosgrove as Margo, the oldest of the three girls and the most overprotective of the trio.
Elsie Fisher as Agnes, the youngest child of the three girls, who is obsessed with unicorns.
Dana Gaier as Edith, the middle and tomboy of the three girls.
Russell Brand as Dr. Nefario, Gru's elderly, hearing impaired gadget man.
Ken Jeong as Jendy, Doctor Mocker's partner who helps him create the Minion Bots.
Nasim Pedrad as Jillian, Gru's irritating matchmaking neighbor, she is also one of Lucy's clossest friends.
Kristen Schaal as Shannon, Jillian & Lucy's superficial friend.
Julie Andrews as Marlena Gru, Gru's mom.
Pierre Coffin as Kevin the Minion, Bob the Minion, Stuart the Minion, Additional Minions.
Chris Renaud as Lucy's doctor, Additional Minions, Robot Minions
Production
The CEO of NBCUniversal, Steve Burke confirmed in September 2013 that a third film of the Despicable Me franchise is in the works. In January 2014, according to ComingSoon.net, it was announced to be released in theaters on June 30, 2017.