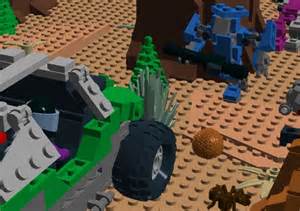 Operation
Imperium
was a battle
between
the
 '
Brick
Minions
and
the
Evil
Brick
Minions
. It's goal was to exterminate Evil Brick Minion forces in the canyons not far from 
Nefario Airfield
. The Brick Minions feared Nefario Airfield being taken by the Evil Brick Minions because not only would the Evil Brick Minions get many airplanes and POW's, but also, it would give Evil Brick Minions a better chance of invading 
Brick Colorado
.
The Battle
On July 9th, 2198 (1967 in Earth time), 25,000 Brick Minions charged into the canyons. More than 3,000 were dead in the first 12 minutes from machine gun fire, mortars and snipers. After 1 hour of intense fighting, the Brick Minions were able to bust through a line of 7 M-86/68 Heavy Purple Tank​s. After 5 bloody hours, the Brick Minions had reached the top of Camryn Canyon. Once on top, the armies hid behind debris from destroyed rocks and tanks, and the battle was at a standstill for over a week. Finally, at 8:30PM, General Dave ordered a daring sneak attack on the enemy. The Evil Brick Minions were so shocked and suprised, that they retreated all the way from Brick Arizona to Blocka California. The operation was a success, though General Dave had lost 18,985 soldiers, 52 Yellow Iroquois UH-2, 14 Yellow Tank's and 4 Howitzers. However, they retrieved 25 Purple Heavy Bombers, 40 F-43 Flyer​s, 7 F-123HMV "Frog" Cruisers, (more would be found along trails and roads that had ran out of gas) and over 500 lbs of food. 
Impacts from Battle
Turned the tides in favor of the Brick Minion's in the West.
Camryn Canyon crumbled about a year after fighting in the West ceased.
Evil Brick Minions would begin hiring mercenaries to fight, so they could get away safely, and to overwhelm the Brick Minions.